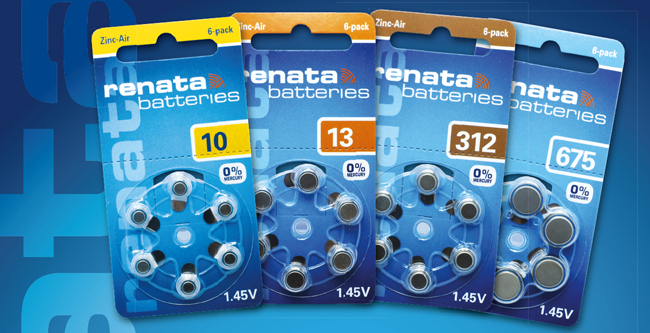 RENATA is a worldwide leading producer of button cells for electronic applications and trusted for uses as original equipment by the world's most respected brands.
Their high-technology and highly facility producing a wide range of products such as silver oxide batteries for wrist watches, zinc air batteries for hearing aids and Lithium-3V-Button with the leakpoofness and long life performance.
Original & Fresh products guaranteed!
With our strictly concentrate on the batteries sales, we supply only the "ORIGINAL" and "FRESH" batteries. We constantly rotate our inventory and using stock control procedure to avoid selling stale products.
Renata Hearing Aid Batteries (Zinc Air) 1.45V
> Ideal for analog, digital and ultra high power hearing aids

> Optimized for wireless communication

+ + + + + + + + + + + + + + + + + + +

For more information, please contact:

R T B CO.,LTD. (Authorised Distributor in Thailand)

Email:

This email address is being protected from spambots. You need JavaScript enabled to view it.

,

This email address is being protected from spambots. You need JavaScript enabled to view it.

Tel: (+66) 0-2253-2225 , 0-2253-4446 (7) Fax: (+66) 0-2254-5242